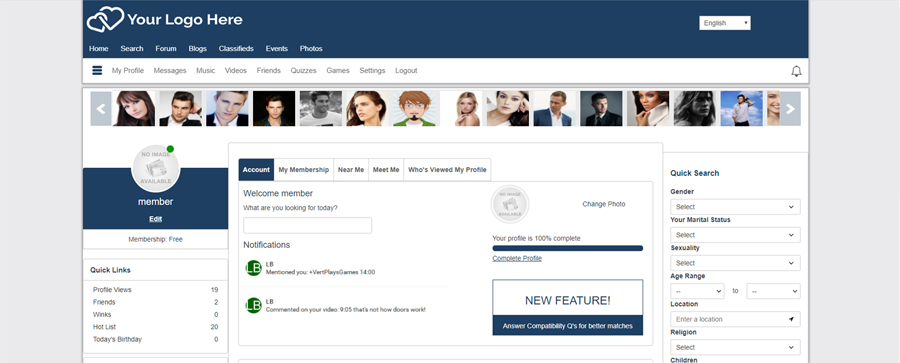 We are just a couple weeks away from the release of version 13 of the iCupid Dating Software. Inside this release we have many new features and a lot of enhancements. I'll detail some of these below.
We have removed FlashComs from the dating software and integrated our own live video chat solution that does not require additional monthly subscription like FlashComs. This was a huge request and we've delivered by putting it in the dating software.
We've also added Credits to the software. You can now offer monthly memberships as well as credits that can be used for emails. You can use both at the same time. Along with the credits we've added a new payment gateway called Requitix. Requitix is a new cryptocurrency payment gateway with some really cool anti-fraud features built into it. Checkout our post on Requitix for more information.
Another feature that we had requests for was a new boxed layout. We have created two new layouts. Full width and boxed. This can be changed via the admin area.
Yet another feature we added is the Compatibility Quiz. This is another optional feature that lets you create a quiz with specific weights to specific answers giving you a 100% customizable compatibility quiz for your members.
Other features include two new templates and a new Compare feature that lets your members compare their profile to the profile they're viewing. This is great for seeing how members stack up against other members.
We've now added new registration functions that include a new Google Register/Login and Twitter Register/Login. Users can now register with their Google or Twitter accounts. We've also updated the Facebook Connect to include Facebooks new Valid OAuth redirect URIs validation function.
While we'd love to go into great detail here on all the new features, we'd like to save some stuff for the big reveal. We've spent a long time on version 13 and we're sure that you're going to love this new version as much as we do.
Once version 13 is released we will post a new blog announcing the release. Stay tuned!