WE ARE ADVANDATE
Advanced Dating Software Solutions Company.
What does AdvanDate mean you ask? In short it stands for Advanced Dating and that is what we offer, Advanced Dating Solutions. We're not just a dating software provider, we're a dating solutions website.
We don't just sell you dating software, we sell you a whole dating business solution that is backed with over 16 years in the online dating business and the best part is that we're an American company, located in America and our staff is located here in America. You can call us at (843) 812-5900.
We are a one stop shop for all those dating site owners and soon to be dating site owners. We offer Dating Software, Mobile Dating Solutions and a Dating Ad Network to help market your dating site and it's all rolled into one website, AdvanDate.com.
AdvanDate has been nominated for Best Dating Software for 3 years in a row!
Our team is made up of online dating business professionals who have been in the dating industry for over 16 years and have come together to form AdvanDate Dating Solutions.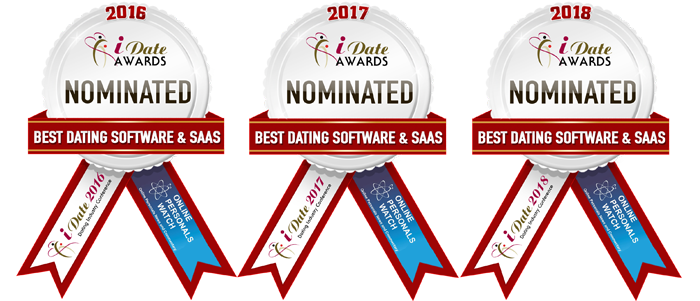 Advanced Dating Software
We created our first dating software application in February of 2000. Over the last 16 years it has undergone many changes and has become one of the best dating software applications on the Internet. With 10 times more features than any other dating software application, it's constantly evolving. We're committed to making it even more enhanced and with free upgrades, your dating site will be sure to stand out in a crowd.
What does 16 years in the dating software business give you? It gives you the most stable dating software you'll find. It gives you more knowledge in the online dating industry then just about anyone in the business. It also gives you the satisfaction that you're working with a company that has your back and will always have your back. Your growth and success is what we strive for.
Dating Ad Network
The AdvanDate Dating Ad Network is an ad network designed specially for the online dating industry. It was designed so that small dating site owners could advertise in the dating space at a fraction of the cost of using Google Adwords. Using our dating ad network will promote your new or existing dating site to millions of people who are looking for specific types of dating sites.
Why Choose AdvanDate?
Besides being in the dating software business for over 16 years, we provide you with a top notch dating software application and back it with free support and free upgrades. Something goes wrong then we fix it. It's just that simple. Contact us today to experience the AdvanDate difference.