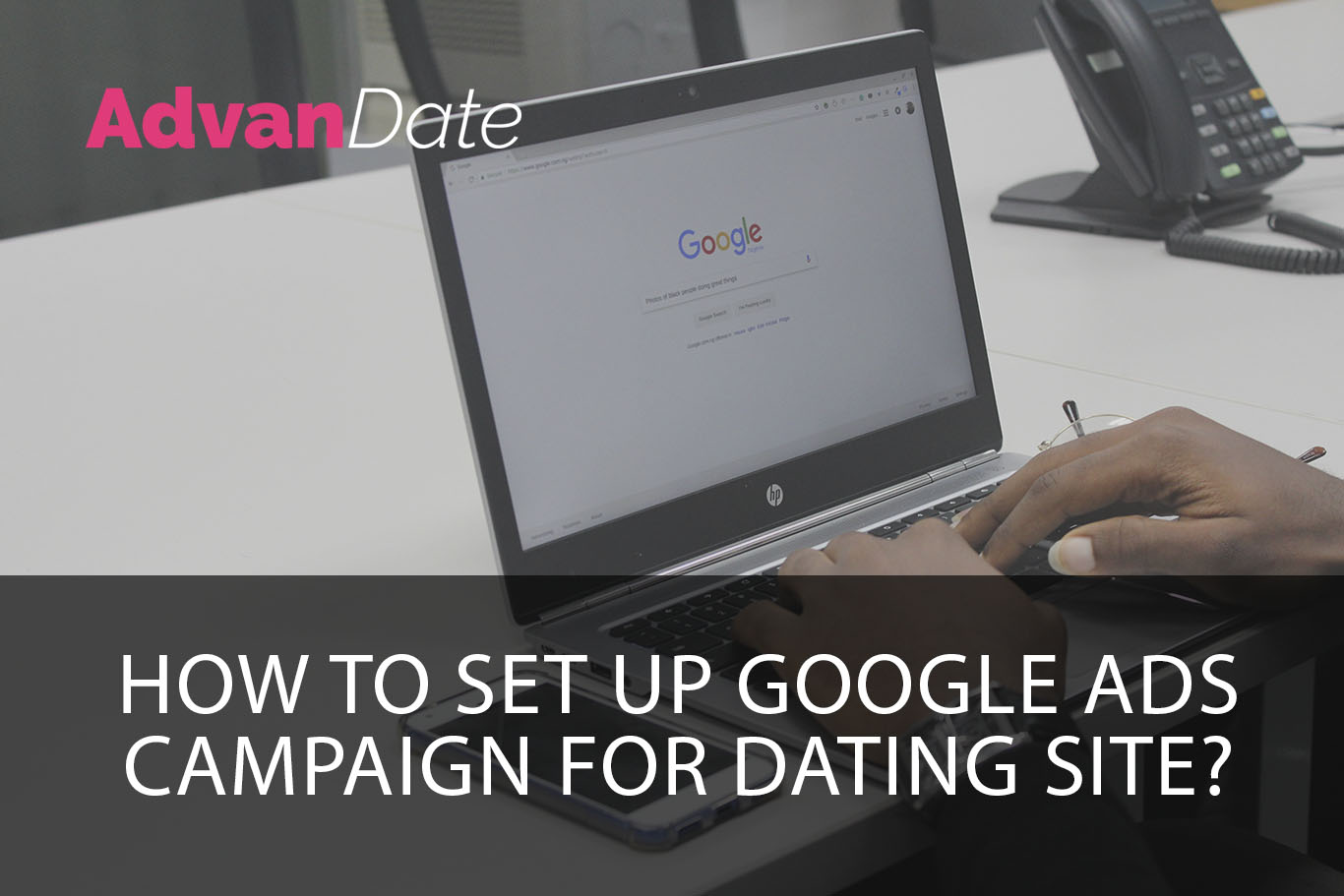 Google Ads is a contextual advertising system where advertisers auction a specific keyword.  So that when someone does a search on Google, the ads made by it are visible to everyone. However, the advertiser will have to pay Google.
Suppose you search a query related to dating in Google. Google then displays relevant websites according to their actual rankings, and websites that have paid to appear for this particular query.
Google Ads campaign for dating sites is an effective way to drive traffic to your dating website. In this article we want to show you how to set up google ads campaign for dating site. Let's continue by looking at the article more closely.
How to set up Google Ads campaign for dating site?
Through with its own budget, you can start campaigns. There is an ad category for each campaign, for instance a form of traffic source (social media), or a form of goods/services (free membership period). You create an ad for each ad category, and pick keywords. Follow these steps to set up google ads campaign for dating website.
Step 1: Go to the website of Google Ads
First, Go to https://ads.google.com, Then you'll see, "Get Started Now" button. To sign up for your Google Ads account, click on this. Select the "create Your first google ads campaign for dating site.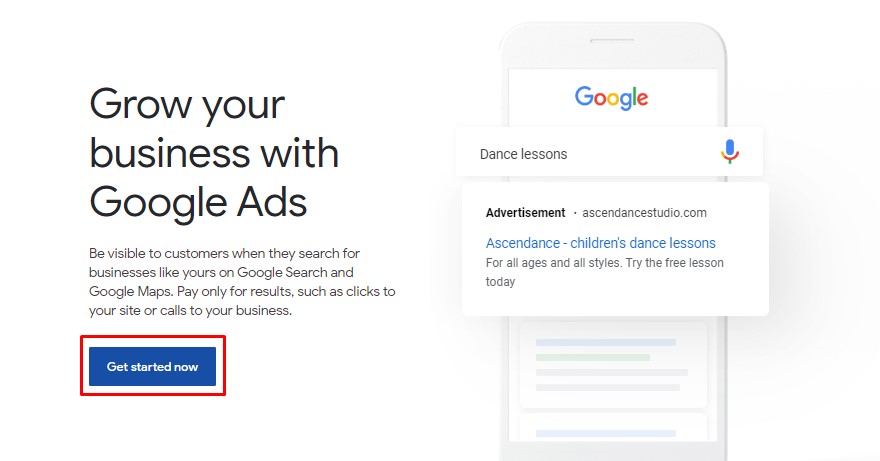 Step 2: Choose a Form and Title of Google Ads Campaign for Dating Site
You have choices for a type of campaign. If you're just getting started, the best choice is to pick "Search Network" or if you want "Display Network" too.
Name your Compaign: You may want to pick a name that applies to the product or service that you are advertising.

Step 3: Choose Ad display Location
When it comes to locations for people you have several choices. You may pick a region big or small. For example, a whole world, or simply a city. You can use latitude-longitude coordinates, if you want a specific area.
Make sure that you know your perfect client's locations. When you are a local business owner you want people in your area to be targeted. When you are marketing your goods and services to people around the U.S. select the U.S. You may want to set up many promotions for company owners who market globally for countries with the highest profits, or where most of the customers reside.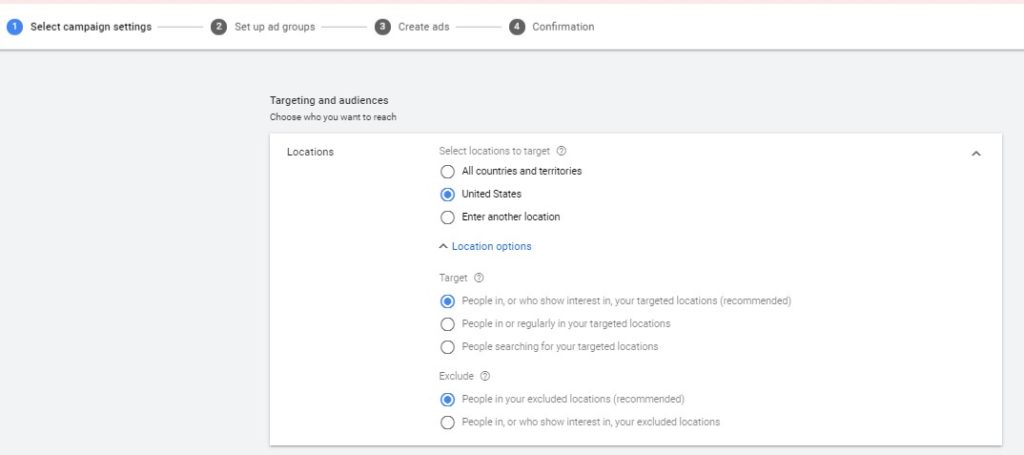 Step 4: Set Your Daily Budget
It is best to set a low daily budget before you are a competent Google Ads customer. It helps you to start gradually, gather data and then extend what works as you become more familiar with your campaigns. Remember that Google can, and does, surpass your regular budget slightly. That's why it's important to keep a close eye on your ads and change your budgets every week to make sure you don't surpass your monthly ad budget at most.
You will need to set up the payment options.
Manual Payments: You pay before showing up on your ad.
Automatic Payments: You connect your account to your credit card or bank account and automatically draw the money.
Monthly Invoicing: Google offers credit lines to all eligible business owners.
Step 5: Add keywords
Particularly for first time Google advertisers for Dating Site, This can be tricky. Your first instinct is likely to add as many of the keywords you think are important to your company as possible. In reality, that's just what Google wants you to do because you'll be spending more money then.
Instead, just concentrate on what we call the keywords in bullseye. Those are the keywords where there is absolutely no question that the person searching for the keyword is exactly looking for what you are offering. There can only be a few of these keywords in bullseye and that's OK. Don't add any keywords where there is any chance the searcher might not be looking for your product or service.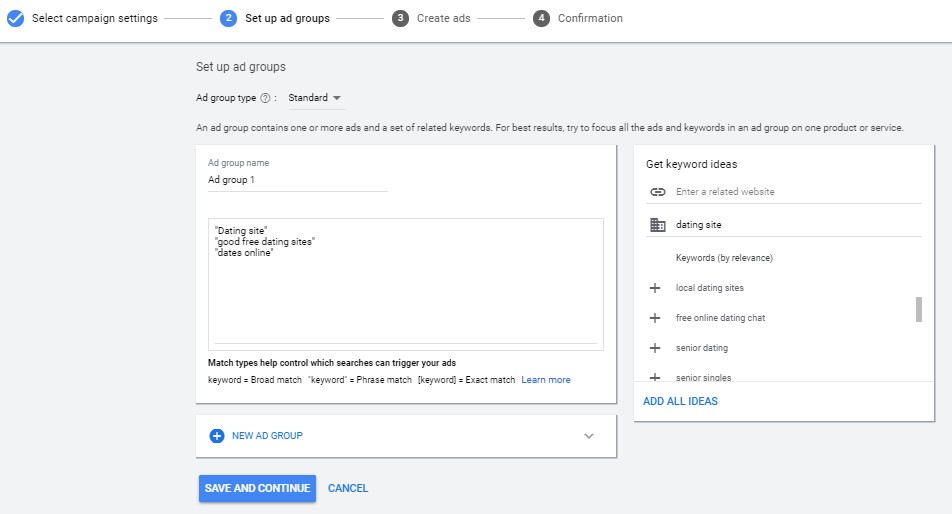 Step 6: Creating an Ad
This is where the fun starts. You get to create an ad that will encourage your customers to go to your website and select them. Prospects are more likely to press an ad with the keyword they used in the search bar on Google. And, make sure to use the phrase in one of the two headlines if you're targeting a particular keyword term that your customers use (after doing keyword research).
You will move back to the ad summary after the headlines. If you have one, concentrate on the main advantages of your product or service, identify your promotional offer and finish with a clear call to action.
Finally, we suggest that you submit people to a landing page created specifically for your ad. Through doing so, you can ensure the information in the ad is mirrored on the landing page, resulting in stronger conversions. Users sometimes make the mistake of setting up a special offer promotional ad and then sending it to their homepage that never addresses this offer. That only results in disappointment on your prospect's part. The keyword term you used in your ad should be highly focused on a landing page.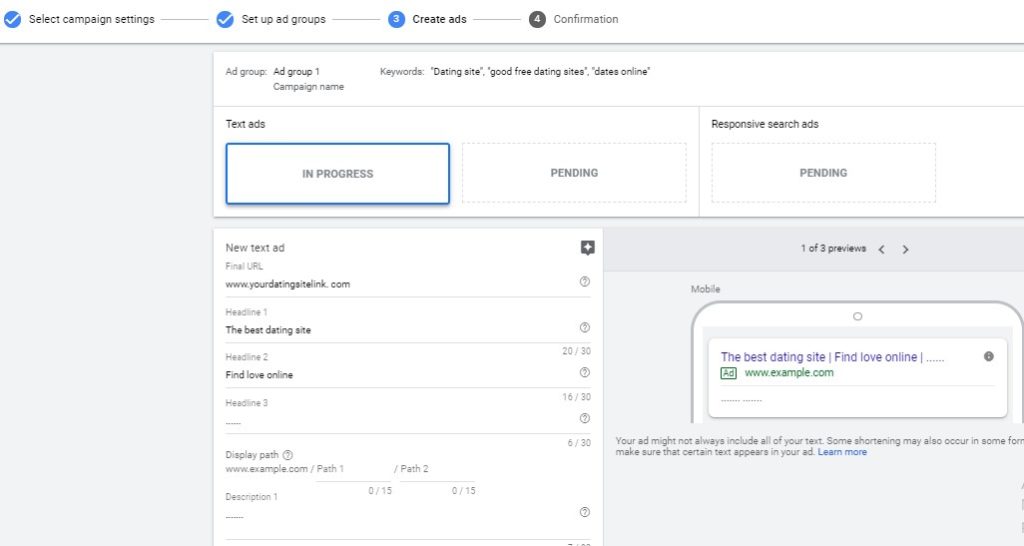 Step 7: Set Up Conversion Tracking
This last move is to set up all the conversion tracking that suits your business. Google offers you the choices you need:
Webform leads (e.g. quotation requests)
E-commerce orders (e.g. orders from your online shopping cart)
Announcement calls (e.g. phone calls from the number shown on your ads)
Online calls (e.g. phone calls from the number shown on your online)
Imports from sales happening off the internet.
Before you turn on the ads, be sure to set up all the correct conversion monitoring options. Otherwise, the efficacy of your ads can't be measured!
Conclusion
In this post, I've discussed about how to set up google ads campaign for dating site. These specific headline formulas for Google Ads are ready for you to implement, rehash, and reuse in order not just to save a lot of time but also to maximize efficiency.
Also, if you have any questions regarding setup google ads campaign for dating site, feel free to comment below in the comment section.