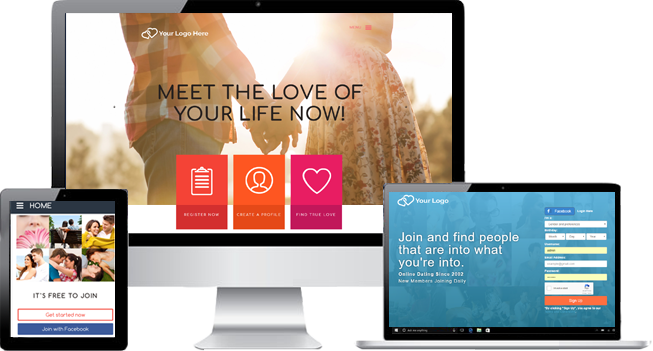 iCupid Dating Software Version 13 Features.
More features than any other dating software application including responsive design and a mobile dating app. It also includes free installation, free support and best of all, free upgrades!

User eCards
Let your users send eCards to other members right from the bottom of the compose email section.

20,000 Profiles
Make your dating site look busy and stand out with over 20,000 global dating profiles. Included in Professional and Developer Packages.


Photo Greetings
Now your members can upload any type of media to a email that they send other users right from the bottom of the email.


Boxed/Wide Layouts
Select either wide or boxed with for your whole site. Both layouts are now fully responsive.

Credit Payments
Allow your members to purchase credits for things like sending emails/winks. Customize the credits via the admin area.


Custom Compatibility Quiz
Create your own custom compatibility quiz for your members to take and set the weight for each question to refine search results for your members.


HTM5 Live Video
We've have integrated several live chat solutions into AdvanDate dating software.

Articles
Articles for your site give your members good things to read. Keeping members on your site and engaged is all good stuff.


Profile Compare
When viewing profiles your users can compare their profile with the user they're viewing giving matches on the screen.


Custom Menu Bars
Now you can customize your own quick navigation bar with your own custom links.

Twitter Login/Signup
Now your members can register/login with their own Twitter Account.


Google Login/Signup
Now your members can register/login with their own Google Account.


New Dashboard Notifications
New Dashboard notifications show your members what is happening with their email, winks, chats and more.

User Breadcrumbs
Optional Breadcrumbs can be enabled in the admin area to offer your members a Breadcrumb Navigation.


Blog/Article SEO
All articles/blogs you create from the admin are now SEO friendly and fully redesigned.


Near Me
Now your members can see other members that are near them. Uses Geo-IP to location profiles near a member.

Meet Me
Now your members can scroll through member photos and pick and choose the members they want to meet.


Report Profile
Members can now report other members to the admin. Once reported an admin can review the profile.


Live Video Chat
Users can now chat live with other members with live video via their web cams. This is now fully integrated into the dating software.

Dynamic Header
Now when your users scroll down the page the menu navigation bar will stay at the top.


Stripe Gateway
Stripe has been integrated into the dating software. Now there are 15 different gateways.


Hot List
Users can now add profiles to their hot list and come back to those profiles later and email them. Add straight from a users profile view.


Saved Search
Users can now save a search and come back later to use that same search. Great for users that like to save an advanced search without clicking all the options.


Rate My Profile
Users can rate any profile from the profile view. This rating shows up on the members profile. Toggle this on/off if you don't want to use it.


Skype
Users can add their Skype username to their profile view to allow for other members to call them directly on their Skype account.


Comments
Users can post comments to other profiles. These profiles, once approved, will show up on the users profile at the bottom and the side.


Profile Access
Users can set who can contact them from their Profile Access area. Settings include allowing certain genders and or certain countries.


Fully Responsive
No matter what device your members use, your dating site will adapt to the screen they are using. Whether it's a iPhone, Android or any other mobile device.


Match Alerts
Members can set their match settings where they can narrow down the profiles that they want to make a match with.


Email Alerts
Get email notifications for different aspects of the dating site. Your members can pick and choose what they get email alerts for.


Instant Messenger
Members can chat one on one with each other via the Instant Messenger feature built into the iCupid Dating Software.


Private Chat
Your members can enter into a private chat straight from the profile view. Don't want to use the Private Chat then you can simply turn it off.


Custom Profiles
Members can customize their profiles to fit their needs. From changing the background color to different type sets for their profile view.


64 Dating Templates
With each purchase of the iCupid Dating Software you get over 60 dating templates. Pick the one you like best.


Photo Galleries
Members can create galleries and add photos, video and music to them. Members can create as many as they like.


Video Uploads
Members can upload video files to their profiles. They can upload mp4, avi, mov and other video media formats.


Music Uploads
Members can upload music files to their profiles. They can upload mp3 music files to their profiles.


Enhanced Emails
Members will never miss an email with the enhanced email system. Charge members to view it or keep it free.


Friends
Members can add other members to their profiles as friends. Once a friend accepts the request then it shows up on their profile.


Who's Online
Members can see who is online and view that in 4 different views and they can be filtered by multiple filters.


Advanced Search
The advanced search gives your members the search area they need to find exactly the match they're looking for.


Custom Views
For Who's Online and Search Results, get 4 different looks from basic, thumb, gallery and detailed views.


Forums
The dating software also includes forums for your members to use. Don't want them Simply turn them off in the admin.


Groups
The software also comes with groups. This is a good way for your members to create different groups that others might want to join.


Blogs
Keep the news fresh on your dating site with this blog feature. Blogs are now a critical part of SEO and should be used.


Games
Members can now enjoy paying games on your dating site. These all come with each copy of the iCupid Dating Software.


Events
Looking to put on offline dating events? Get your members to your events with this new exciting events calendar.


Classifieds
Like most popular dating sites, classifieds can enhance the user experience. Don't want it? You can turn it off.


Quizzes
Now you can have your members take quizzes. You create the quiz and they answer it. This can also be turned off.


Hot List
Your members will love this feature. Now they can add profiles to their hot list so that they can come back to them later.


Friends List
Shows the member who all of their friends are. Your members can add and remove these at will.


Flirt/Winks
No dating site is complete without the ability for members to send Flirts/Winks to other members. Great icebreaker tool.


Privacy Settings
Members can select who can contact them and their profile. Great for those members that want to block other members.


Custom Account Settings
As an admin you can customize the account settings area for your members.


Enhanced Dashboard
Version 13 now has a new enhanced dashboard that shows you many different member stats. Get the data you want quickly from the main dashboard page.


Member Maintenance
Groom your member base by keeping dead profiles off the system. Keep things in order using the member maintenance.


Design Admin
With the design admin you can select the template you want to use along with the different color schemes.


IP Lookup
Instantly show a members IP and have it scanned through a spammer/scammer database. Block member right from the lookup.


Mobile App Admin
Instantly change the mobile app splash page to make it your own. You can also edit the About Us of the mobile app as well.


New Profile View
Open up a member profile in real time from the admin area and instantly edit it on the fly.


Country Blocking
Now you can block whole countries from your site. Keep out the countries known for spamming and scamming.


Member Blocking
Now you can block any member by their IP and they'll never be able to join your site again.


Billing Reports
A complete billing reporting tool to show revenue. Run reports by any time frame in graphical format by any membership package.


Payment Gateways
Payment gateways are in the dating software including PayPal, Stripe, 2Checkout, AuthorizeNet, ccBill and more!


Optional Plugins
Enhance your dating site with optional free plugins like Google Analytics, AddThis, 2Checkout, Authorize.net and more.


Maintenance Mode
Put your site into maintenance mode while you make changes or apply version updates.


Banner Admin
Add banner advertisements to your site. You can even add Google AdSense and earn extra revenue with your site.


Monitor Members
Monitor what members are doing with the Monitor Member feature. Lets you see what they are doing in real time.


Custom Profile Area
Create the profile questions you want with custom profiles. Whether it's a text box or drop down question, you can create it.


Member Stats
Get a snapshot of what is going on with your dating site with member stats. From logins to registers to how many photos were added.


Affiliate Stats
See how well your affiliates are performing with the affiliate stats area. From impressions to clicks to conversions.


Visitor Stats
Now you can see all members stats as well as non-logged in members (Visitors). Keeps track of the data you need.


Custom Page Creation
Create your own unique pages with the custom page creation tool. Add pages like about, faqs and more to your dating site.


Template Admin
Make changes to the templates that you want with the template admin area. Over 40 different dating templates to choose from.


Logo Admin
Add your custom logo to your dating site. Simply upload a jpg or png format logo file from the logo admin area.


Color Scheme Admin
Change all the colors on your dating site for each template that you activate. Great for changing it up a bit.


Moderator Admin
Easily create moderator accounts for your trusted members or staff.


Mass Email Admin
Stay in contact with your members with the mass email tool. Good for sending out your monthly newsletter.


Thumbnail Admin
Set the default thumbnail icon images that your members have for not uploading photos, music or video files.


Display Options
Set the username, date and time formats for your site including time zones, currency and more.


Search Options
Set the default search options for your members from basic, grid and others.


API Settings
Add API settings for Facebook Connect, YouTube, Eventful and others.


Facebook Connect
Let your members use their Facebook accounts to register and login to your dating site. Cuts down on registration time.


Forum Admin
Create, manage and moderate each forum that you create on your dating site. You can also turn this feature completely off.


Group Admin
Create, manage and moderate each group that you create on your dating site. You can also turn this feature completely off.


Classifieds Admin
Create, manage and moderate your classifieds ad section that you create on your dating site. You can also turn this feature completely off.


Quizzes Admin
Create, manage and moderate each quizzes that you create on your dating site. You can also turn this feature completely off.


Calendar Admin
Create, manage and moderate each events calendar that you create on your dating site. You can also turn this feature completely off.


FAQ Admin
Create a unique FAQ page so that your members can find answers to the most common questions regarding your dating site.


Poll Admin
Create, manage and moderate each poll that you create on your dating site. You can also turn this feature completely off.


Games Admin
Create, manage and moderate each game that you create on your dating site. You can also turn this feature completely off.


Member Approval
Approve or reject members when member approval is set to manual. You can have it set to auto-approve if you want.


Music Approval
Approve or reject members music files when member approval is set to manual. You can have it set to auto-approve if you want.


Extensive Reporting Tools
Tons of reporting tools in the admin area that let you see things like members, registers, logins, membership upgrades and more.


And Much Much More...
This is just a small list of the features that are in version 13 of the iCupid Dating Software. For even more features see the button below.


Free Upgrades
Each package includes free upgrades. Whenever a new version comes out you get it free. There is no time limit on upgrades. Whether you purchase the package last week or 3 years ago, you will always get free upgrades.


Free Support
With each package there comes free support. Got a problem then let us know and we'll resolve it. Our 24/7 support staff can answer any support issue that you have and correct any issue that you have.


Lifetime Free Hosting
Now included with each package you get a lifetime of free hosting. This means that your hosting will be through AdvanDate and you won't ever have to pay for it. It's Free and it's For Life!


Free Installation
Each package includes free installation. Simply provide us with your hosting details and we can have your new dating site setup in about 10 minutes.


Dating Templates
Each package comes with over 60 dating templates. Make your dating site stand out with one of the unique dating templates. Each template can be modified from the admin area. Remove text and images to fit your dating site idea.