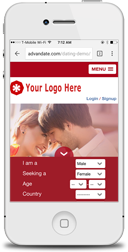 AdvanDate is hard at work wrapping up the next version of the dating software. Version 11 contains many new enhancements that include being 100% fully responsive. This means that the dating site will adjust to any device you are using. Whether it's a mobile phone, tablet or a desktop computer. The dating software will automatically fit the screen you're using. This is great because the days of going past the right side of the screen are gone. All pages have been completely modified to adapt to all screens including iPhones, iPads, Android phones, tablets and others.
Other new features include more modern dating templates. We have added three more dating templates bringing the total dating templates to 45 Now you have more options than ever when it comes to the look and feel of your new dating site. Not only does this new design give you a fully responsive experience, but it also gives you two different options for dating sites to choose from and all for one price.
Version 11 will be ready in a couple weeks. Stay tuned for the release.